Financial and Insurance Info
Because we understand the financial impact of periodontal and reconstructive procedures, we try to be understanding and flexible regarding payment options. A variety of financial arrangements will be discussed with you during your consultation visit, including payment in full at the time of visit, financing options, and insurance coverage. Our staff will assist you with your insurance issues in any way possible, keeping in mind that we must honor the contract terms between you and your insurance provider.
For your convenience, we accept personal checks, Visa, Discover, American Express, and MasterCard. In addition, we also offer CareCredit. If you have any problems or questions, please ask our well informed and up-to-date financial coordinator.
Oklahoma Center for Implants & Periodontics is a network provider for the following insurance companies: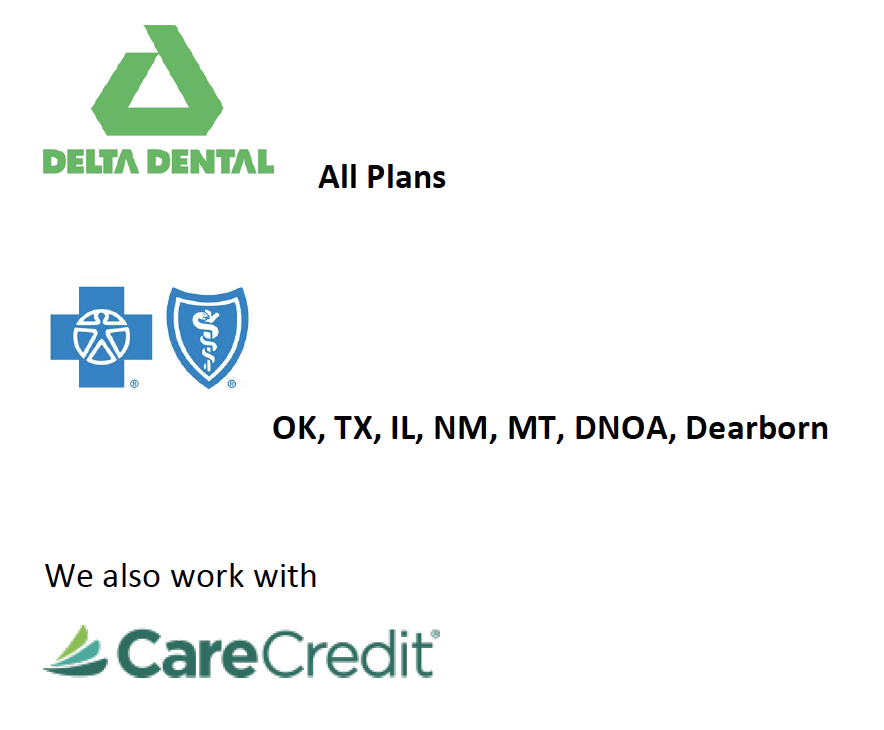 We are not providers for BCBS of OK Federal. If you are enrolled in another insurance plan, we will gladly file the claim for you, but our fees will need to be paid in full at the time of service and your insurance company will reimburse you personally.
Our insurance coordinators deal with many different insurance companies. Companies offer many different dental and medical plans. We will do our best to provide you with the most accurate estimate of costs, but it is not an exact science. Dealing with some of the insurance companies can be difficult and time consuming. As a courtesy, we ask that you keep us informed of any change to your insurance. It is important that all the information about you and your insurance company is current.
The range of dental benefits depends solely on what the plan purchaser wishes to offer employees or members. Some plans may cover as little as 30% or as much as 100% of dental services, with most falling in the 50% to 80% range. Some plans exclude certain types of services, e.g., orthodontics, while other plans will cover a full range of dental services.
According to Oklahoma Law, in order to file a claim for a patient, a current insurance card must be provided at the time of service. If an insurance card is not provided, the claim will be given to the patient to file.
To expedite processing, please make sure the insurance card has an I.D. #, mailing address and phone # for dental claims. We will also need to know the policyholder's date of birth and relationship to the patient.