We constantly strive to provide our patients with a pleasant dental experience and premier periodontal services. To facilitate those goals, we have invested in cutting-edge technology.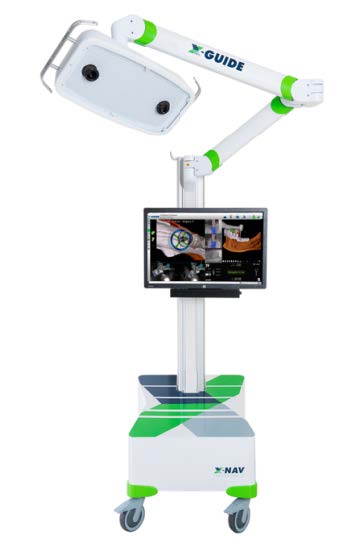 Dynamic 3D Navigation. Like GPS for the doctor.
The X-Guide is a system that works in tandem with the cone beam system to provide outstanding implant placement for our patients. X-Guide boasts dynamic 3D navigation that delivers interactive, turn-by-turn guidance giving the ability for precision and accuracy of every movement during treatment.
It features a live, 360-degree view of anatomy and position of equipment during surgery, allowing us to confidently transfer your 3D treatment plan with ease. X-Guide also makes same-day guided surgery a reality for you.
Cone Beam Imaging
Cone beam imaging or computed tomography (CT) scan is a type of three-dimensional X-ray similar to computed axial tomography (CAT) scan. Both utilize rotating X-ray equipment and a digital computer to obtain images of the body. In dentistry, a CT scan takes cross sectional images of the head and neck area giving the dentist an accurate view of the jaws. This can aid in the diagnosis of infections/tooth problems, and is instrumental in planning for dental implants.